July 27, 2017
10:53 pm
See On Instagram
July 27, 2017
8:27 pm
Our Canvas European Rucksack is the perfect on the go bag, featuring various sized pockets that makes storing gear easy. Check out our entire line of the Canvas European Rucksack here: https://www.rothco.com/product/rothco-canvas-european-style-rucksack See Post
July 28, 2017
8:50 am
@ If we bring in a short length we will let you know!See Tweet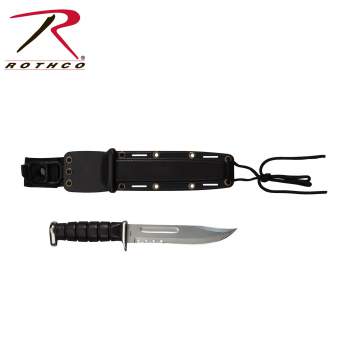 Want to become a Rothco Dealer?
7" Blade 12" Overall , Grooved Rubber Handle , Black Kydex Sheath WARNING: This product contains a chemical known to the State of California to cause cancer, birth defects and other reproductive harm.
Plastic, Rubber, Stainless Steel
Blade: 420 Stainless Steel, Handle: Rubber





Write a Review
I bought one to check it out and..WOW. Very nice knife and the price is right. Very strong and nice looking. Sheath is very studry.