January 22, 2019 9:23 pm See On Instagram
January 22, 2019 8:05 pm
#SHOTShow is in full swing in Las Vegas! Check out some of these great shots of our booth, and be sure to watch our LIVE video of the show from earlier today! See Post
January 23, 2019 8:30 am
Grab yourself a new backpack. See Tweet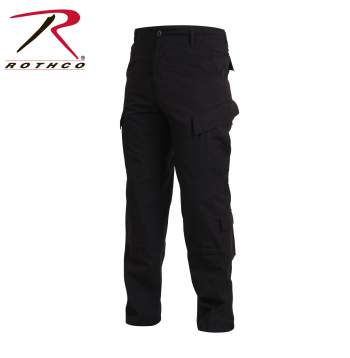 Want to become a Rothco Dealer?
Rothco's Army Combat Uniform Pants are constructed with a poly/cotton rip stop fabric for added strength and durability. The army uniform pants are made to near-military specifications (Mil-Spec) and feature a button fly, drawstring waist, reinforced seat & knees, knee pad pouches, two cargo pockets with tilted flap, hook & loop closure and elastic drawstrings, two lower pockets with hook & loop closure and ankle drawstrings. Rothco's uniform pants are available in digital camouflage and solid colors and matching Army Combat Shirts.
Reinforced Seat and Knees, Knee Pad Pouches
Hook and Loop, Buttons, Drawstring
XSML- waist 27 inch, . SM waist 31 inches MED- waist 35 inches LRG 39 incheswaist XLRG 44 incheswaist. 2XL 47 inches 3LRG 51'' waist 4xl 55 inches waist 5xl 59 inches waist 6xl 63 incheswaist 7xl 67 incheswaist
Cotton, Rip-Stop, Polyester
Construction: 87x50 / 20x15





Write a Review
Hi, Thank you for a always a quick service. Add more Images in Black. We are sure we can sell good. You present a good image we sell give you more business. regards David www.armygross.se Sweden
I run a lawn care service. The pants are cool in the summer heat, and dry quick when they get wet. They take a beating. Very good product.
Please, add more patterns and colors to ACU style line! Olive Drab Rip-Stop, Khaki Rip-Stop and Tri-Color Desert SWAT Cloth Rip-Stop would be very popular! Our customers ask us about olive ACU shirts and pants. And maybe, Tiger Stripe ACU products would be popular too! Thanks!
Hello! We think that a good idea is to combine to one product web page similar items like shirt & pants (item 5755 and 5765) - so it would be more comfortable for dealers who buy a several sets but not only one garment (top or bottom) and to save time while ordering these items and many more. Thank you! (this message is not a review)