July 21, 2017
9:19 pm
See On Instagram
July 22, 2017
10:06 am
Paracord is an essential survival item and can be useful in many situations. Watch our video and learn how to make 3 different kinds of survival bracelets yourself! You can view all of our paracord and accessories here: https://www.rothco.com/category/rothco-paracord See Post
July 22, 2017
9:07 pm
# # 💚 Repost via IG @ See Tweet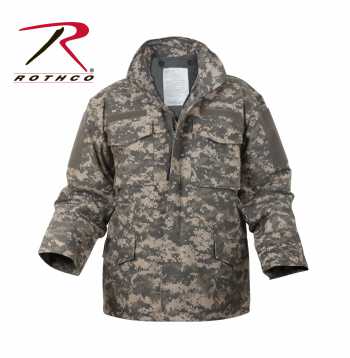 Want to become a Rothco Dealer?
Rothco's Digital Camo M-65 Field Jacket is made to government specifications and is available in sizes XS through 4XL.
55% Cotton, 45% Polyester





Write a Review
We had some G.I. M-65 ACU Field Coat from Golden MFG Inc in our store, so we compared it to New Rothco's ACU M-65. It is an authentic copy of G.I. coat for a 95%, but Rothco's Ultra Force M-65 is more comfortable than G.I.! We were really surprised! Great jacket and great value! Better than G.I.!