September 23, 2019 12:05 pm
We're gearing up for fall! What about you??? # # See Tweet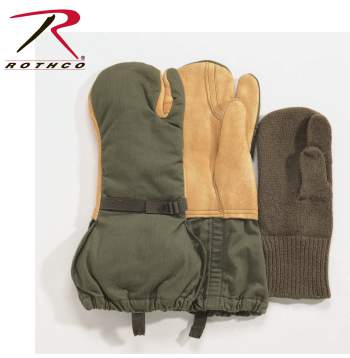 Want to become a Rothco Dealer?
All Shells Come with Liners
Leather, Wool, Cotton, Nylon, Polyester
Outtershell: 50% Cotton, 50% Nylon,Lining: 100% Polyester, Mitten Liner: 75% Wool, 25% Nylon





Write a Review
These appear to be the "real deal" genuine issue item. The shells are VERY well made by the "Illinois Glove Co." and bear authentic DL & NSN numbers, as do the inserts. Inserts are 70% wool, 30% nylon and manufactured in Newberry, CT. These are bulky mittens, but versatile. The leather is consistent thickness, evenly tanned and well stitched.
You May Also Like
Frequently Used With
Similar Products