July 27, 2017
10:53 pm
See On Instagram
July 27, 2017
8:27 pm
Our Canvas European Rucksack is the perfect on the go bag, featuring various sized pockets that makes storing gear easy. Check out our entire line of the Canvas European Rucksack here: https://www.rothco.com/product/rothco-canvas-european-style-rucksack See Post
July 28, 2017
8:50 am
@ If we bring in a short length we will let you know!See Tweet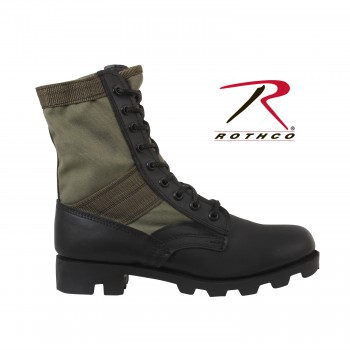 Want to become a Rothco Dealer?
Rothco's GI Style Jungle Boots feature a canvas & nylon upper, leather toe & heel with a rubber "Panama" Sole, 8" high boot. Take these classic military combat boots on a great hike outdoors, on the airsoft field or just with a pair of vintage paratrooper pants. Rothco's Jungle Boots are sized to military specifications; the boots run a size larger, which have been designed to wear with two pairs of wool socks. WARNING: This product contains a chemical known to the State of California to cause cancer, birth defects and other reproductive harm.
The sole is "Panama" black composition rubber and vulcanized to the boot.
Black, Olive Drab, Desert Tan
WARNING: This product contains a chemical known to the State of California to cause cancer, birth defects and other reproductive harm.





Write a Review
Great boot for the money. The only issue I have found is the sole is separating after only a couple months. Some basic shoe repair glue or rubber cement will fix the issue. The soles also leave marks on some of the tile floors I walk on. Other than that they are comfortable and easy on the feet.
It was good for the first month, except it didn't shine too well, the leather was a bit gritty. The rubber sole also kinda rubbed off pretty good on the concrete but stopped for me after I started getting the soles caked in mud. Now, after a Month and a half or so, one of the metal eyelets ripped out of the leather. Then again, I started to do some running and playing lacrosse in them after the first month. It's decent but it could have been much better. Another thing to keep in mind is that they're huge.
I bought a pair of these boots eight months ago. The break-in period is worse than Dr. Marten's, by far. I would recommend using some type of insole, and the thickest wool socks you can find, as the soles aren't too foot-friendly. I have used this boot for rough, off-trail hiking, mountain climbing, and work, and it has met my expectations. The tread is excellent for climbing steep hills, as you can grind your foot into the dirt and create a solid foot-hold. The tread has worn a bit faster than I had expected, but I probably have another eight months left in them. As others have said, the leather will crack at the stress point on the top. A way to counter this is to use a product called "mink oil". This keeps the leather hydrated and waterproof, helping to prevent cracks. The soles aren't non skid, either- if you're walking on anything like a gym or linoleum floor, walk carefully. MAKE SURE TO ORDER AT LEAST ONE SIZE SMALLER, THOUGH! I normally wear a men's 11R, and I went all the way down to a size 9R, and these fit snug. Overall, I am happy with these boots, and would buy them again.
Nice boot good tred, but ripped when braking in on the seam of the canvas and rubber part not for heavy use in my opinion
I have this kind of jungle boots I buyed and they hold up Ive had them for over a year they hold up well nice army boots I wear them when its cold sometimes its warmer than tenni shoes is...
Excellent products. Good shipping delivery.
Very good. Very practical.