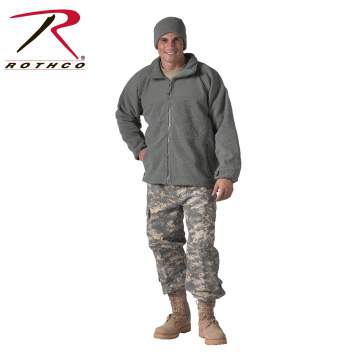 Want to become a Rothco Dealer?

Extra Warm, Can Be Used As A Jacket Or A Liner For The ECWCS Parka, Upper Body And Elbow Patches, Two Inside Mesh Pockets, Drawstring Waistband, Hook And Loop Sleeve Adjustments.





Write a Review
Love this jacket. I wear it all fall,winter, and spring. Keeps the wind out, very durable.
Great product. It collects hair and lint like crazy, but easy to vacuum/brush off.
Jacket looks like navy blue in the picture, but actually it is Black. Very popular product!
This jacket is high quality product, comfortable, very nice and warm using with ECWCS parka in winter. The SMALL size has a little tight collar when zipped. A Velcro insignia attachment for patches would not be unnecessary detail for this jacket. Thanks!
A great item for the colder months, and every bit as good, if not better than the genuine issue version.
This is great as a jacket liner or by itself. Very warm, and zippers work great for regulating your temp when your activity escalates. The only downfall is that they are a hair magnet.