August 13, 2020 6:30 pm
💡DEALER SPOTLIGHT💡#ShopLocal & Support a proud Rothco Dealer! If you're from the Fort Worth, Texas area check out Omaha's Surplus - Location:2412 WHITMORE ST. FORT WORTH TX, 76107 - Hours: MON-FRI 9AM - 6PM, SAT 9AM - 5PM. (They offer Curbside Pickup too!) - Phone Number: 817-332-1493 - Website: WWW.OMAHAS.COM "Founded in 1963 in Fort Worth, Texas by "the old man," still family owned & operated by his two sons present day. Omahas Surplus continues to supply genuine military surplus in the Lone Star State and worldwide for over 50 years." See Post
August 13, 2020 3:41 pm
In honor of @ amazing accomplishments, here is a sneak peek of our Space Force new cap coming in 2021!… See Tweet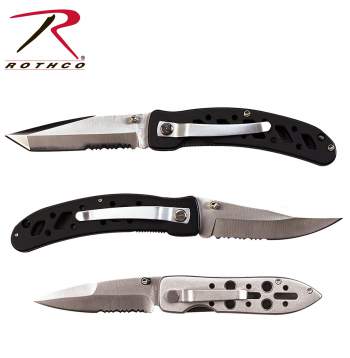 Want to become a Rothco Dealer?
Rothco Samurai II Skeletal Handle Hunter Lockback Folding Knife features a stainless steel serrated blade, thumbnut and a metal handle with steel clip.
serated blade, thumbnut, clip on handle





Write a Review
I bought this for 18.00. it was a one handed flip knife. highly efficient and a spectacular bargain. Im impressed by this product both for its price and efficiency.