August 4, 2021 1:00 pm
💡 Dealer Spotlight 💡 If you are near the Langley, British Columbia Canada Area area check out Poco Military. " We are family owned and run business since 2007 We sell a wide selection of goods: Firearms & Ammo, knives, camping gear, clothing, gold panning, law enforcement & security supplies, tactical gear, flashlights, optics, and a bunch more! In addition to in-store sales, we also offer curbside, in-store pickup and delivery with Canada Post and UPS" Location: 20120 64th Ave. Langley V2Y 1M8 (CANADA) Phone: 778-278-2205 Working Hours: Monday thru Thursday: 10am - 6pm Friday: 10am - 7pm Saturday: 10 am - 6pm Sunday: 10am - 5pm https://www.facebook.com/pocomilitary Firearms & Ammo, knives, camping gear, clothing, gold panning, law enforcement & security supplies, tactical gear, flashlights, optics, and a bunch more! In addition to in-store sales, we also offer curbside, in-store pickup, and delivery with Canada Post and UPS" See Post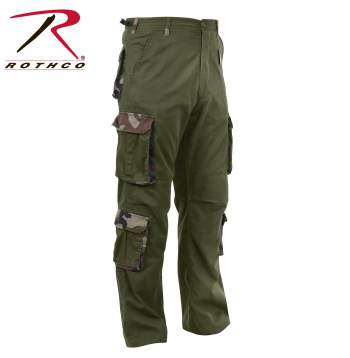 Want to become a Rothco Dealer?
Rothco's Vintage Paratrooper Fatigue Pants are not just BDU's these are cargo pants with style and function. The fatigue pants are super soft, yet durable with a washed cotton/poly twill. Rothco's cargo pants have been designed to carry all the gear you ever needed with 8 pockets including 2 sets of leg cargo pockets, front slash pockets, and back pockets. In addition to the numerous cargo pockets, Rothco's Paratrooper Fatigue Pants feature a zipper fly, 2" adjustable waist tab, and reinforced seat and knees.
55% Cotton, 45% Polyester





Write a Review
I love these pants. I have 2 pairs and they are my favorite. Just waiting on these 2 to wear out so I can buy more.