August 2, 2021 5:00 pm
August's GOTM is ready for back to school or back to the office, either way, this is the perfect bag to help you get there. ✏️ ----- Rothco's Deluxe Vintage Canvas Messenger Bag features a heavyweight canvas material that has been double stitched for long-lasting durability. The spacious bag measures approximately 15.5" X 11" X 5" and can fit a small laptop or tablet. The messager bag is accented with brown canvas straps and brass buckles. The adjustable shoulder strap extends to 52 inches for the perfect fit. Make our Gear of the Month your next school or office messenger bag. ------ See Post
August 2, 2021 11:00 am
"Inside the Army Unit Training Olympic Athletes" Read it here: See Tweet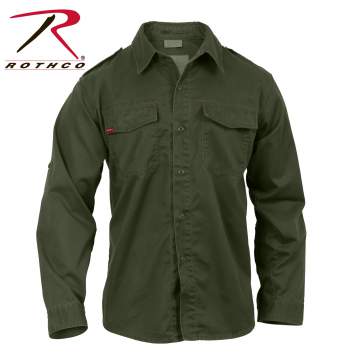 Want to become a Rothco Dealer?
Material Is 55% Cotton And 45% Poly, Washed Long Sleeve BDU Shirt, 2 Front Pockets With Concealed Button, Epaulets, Inside Sleeve Strap Buttons To Allow Long Sleeve To Become Short Sleeve
Inch XS SM MD LG XL 2XL 3XL 4XL 5XL 6XL Chest 21 1/2, 23, 24, 26, 29, 30, 32 1/2, 35 1/2, 37
55% Cotton, 45% Polyester





Write a Review
I recently purchased this shirt in olive. It's exceptionally soft and very, very comfortable. To be completely honest, it exceeded my expectations. I love it! Now to buy it in the other colors. Wish they had a red one also.
Outstanding design, color, and pattern. As soon as I can, I will buy one.