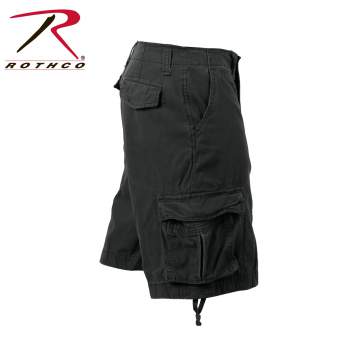 Want to become a Rothco Dealer?
Rothco's Vintage Infantry Utility Shorts are a rugged, heavyweight washed cotton fabric cargo short with french zipper fly, button waist, inside drawstrings, 6 pockets, 2 front slash pockets, 2 rear button pockets, 2 pleated side cargo pocket shorts, change pocket, and drawstring legs. Rothco's Vintage Infantry Cargo shorts have a relaxed fit, extra long length with a distressed detail that gives it an authentic vintage look. Rothco has the largest selection of military cargo shorts.





Write a Review
Love the shorts. They last forever and are, ridiculously, comfortable after a few washes. They hit just below my knee (my height: 5'-10"). A few suggestions though: - Deeper front slash pockets are needed (I've had keys and cell phone slip out, in a seated position, multiple times). - Two more belt loops. - Maybe a little less baggy. I love baggy (I grew up in the '80's-'90's), but these border on "clownish." For the record, I'm 5'-10", 185 lbs., athletic build. - Coin pocket is a neat touch, but relatively useless outside of looking "vintage." Maybe ditch the coin pocket to help offset the cost of deeper slash pockets and more belt loops? Otherwise, awesome cargo shorts. Gives Levi's a run for their money and then some.
The shorts are great quality very comfortable to wear and it lasts forever. I only have one problem, it only has 5 belt loops. All your other shorts have 7. Add two more belt loops and you got a winner. Its the reason I couldn't give 5 stars
This item is being used as part of the uniform in Tao's Asian Bistro at the Venetian hotel in Las Vegas.
The shorts are great quality. I have worn them for a month now, and really like them. Just be careful when ordering, the sizes are larger than normal.