August 13, 2020 6:30 pm
💡DEALER SPOTLIGHT💡#ShopLocal & Support a proud Rothco Dealer! If you're from the Fort Worth, Texas area check out Omaha's Surplus - Location:2412 WHITMORE ST. FORT WORTH TX, 76107 - Hours: MON-FRI 9AM - 6PM, SAT 9AM - 5PM. (They offer Curbside Pickup too!) - Phone Number: 817-332-1493 - Website: WWW.OMAHAS.COM "Founded in 1963 in Fort Worth, Texas by "the old man," still family owned & operated by his two sons present day. Omahas Surplus continues to supply genuine military surplus in the Lone Star State and worldwide for over 50 years." See Post
August 13, 2020 3:41 pm
In honor of @ amazing accomplishments, here is a sneak peek of our Space Force new cap coming in 2021!… See Tweet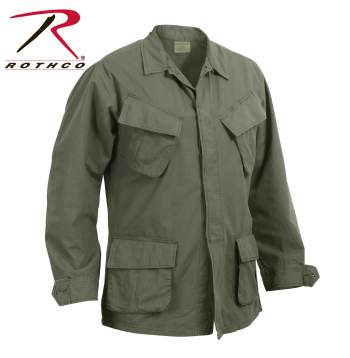 Want to become a Rothco Dealer?
Rothco's Vintage Fatigue Shirt is super soft, yet made of a durable 100% Cotton Rip-Stop material. The Fatigue shirt features 4 slant pockets and is an authentic replica of the Vietnam Era Fatigue shirt.
100% Cotton Rip Stop
Authentic Era Slant Pockets
Washed For Authentic Look and Feel





Write a Review
I LOVE these! Don't believe me? watch my video review of mine. https://youtu.be/La8TlG-MQHs
Yes...this is still a great product however, how about offering this in khaki ...Please?
Exactly what i wanted. Fits perfect. A+++