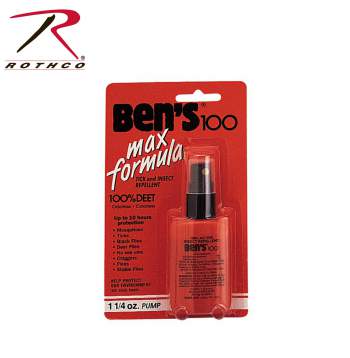 Want to become a Rothco Dealer?
Ben's 100 is the ultimate in long lasting protection! Up to 10 hours of protection per application. Ben's® Tick & Insect Repellents are DEET based and are designed for outdoor enthusiasts who need long lasting protection against biting insects and ticks. Keeps your family safe from ticks that carry Lyme Disease, and mosquitoes that can carry Eastern Equine Encephalitis (EEE), West Nile Virus (WNV), malaria, Zika Virus and other infectious diseases. The bug spray has been proven to repel ticks, mosquitoes, black flies, chiggers, deer flies and other biting insects.
This item is restricted for export and cannot be sold for use in some countries outside the U.S. Please contact Rothco for details.





Write a Review
Strongest you can buy. Just a little bit needed then rub it around. It is a solvent though - will degrade fishing line, and remove ink from maps if left on your hands. If bottle leaks it also melts the plastic packaging - be sure to check your shipment.