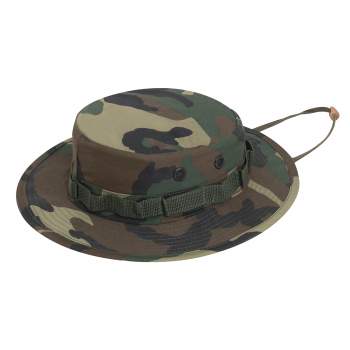 Want to become a Rothco Dealer?
Rothco's boonies are the perfect outdoor hat to protect from the sun.
Military Boonie is Designed With A Surrounding Brim To Provide Protection from The Sun
Branch Loops around the crown of the Military Hat holds additional vegetation as camouflage While Hunting Or Performing Tactical Operations
Rothco's Boonie Hat Is made to government specifications
Four Screened Side Vents Increase Air Flow to Regulate Temperature
Adjustable Chin Strap Provides Stability
Available In Several Camouflage Patterns including Woodland and MultiCam
poly/ cotton, MultiCam: 65% Poly / 35% Cotton Rip-Stop MultiCam Fabric





Write a Review
Rothco's Boonie Hats are great headwear, and this ACU Sun Hat is not an exception. But for this item should be used a rip-stop material instead of polyco twill and foliage green straps for branches but not olive drab. Thanks!