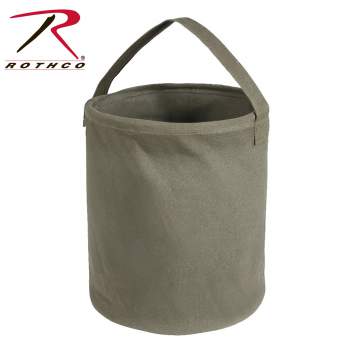 Want to become a Rothco Dealer?
Rothco's Canvas Water Bucket is available in two sizes, 13" x 11" (Large) and 10" X 9" (Medium). The heavy weight canvas water buckets are collapsible and easy to store. They are great for not only carrying water, but also tools and other supplies.
available in two sizes, 13" x 11" (Large) and 10" X 9" (Medium)
Collapsible Water Buckets Are Easy To Store and Transport
Constructed With a Durable Heavy-weight Canvas Material
Great for Carrying Water or for storage of Tools and supplies
medium bucket holds 2 3/4 gallons, large bucket holds 5 7/20 Gallons
Heavy Weight Cotton Canvas
Large: 13" x 11" & Medium 10" x 9"





Write a Review
These things are fantastic! Rugged totes that can take a beating and still perform. They carry water well, but canvas sweats/weeps and leaks - especially around the seams. If you want them to hold water better/longer, melt some beeswax and soak the seams well. They will still weep, but it drastically improves retention times. If you want to use the toted water for drinking, avoid trying to 'waterproof' the canvas with chemical treatments. If you have about a year to allow it to "dry" (just kidding, but it takes forever) you might try a linseed oil soak to turn the bucket into a sort of "oilskin." Might have to put up with a film on your drinking water for a while, but linseed is derived from flax, so it shouldn't kill you. When not in use they fold flat to about 3/4" thickness. Great addition to your gear!