June 28, 2017
8:33 pm
See On Instagram
June 28, 2017
8:45 pm
Have you had a chance to check out our #GOTM? Take a look and see what makes this boonie hat so great (and tactical). See Post
June 28, 2017
10:05 pm
🖤💜🖤💜 # Repost via @ See Tweet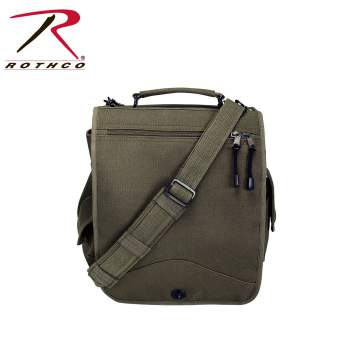 Want to become a Rothco Dealer?
Rothco's Canvas M-51 Engineers Field Bag is the ultimate carry-all for business or travel. It features a large laptop size main compartment, numerous pouches, compartments and pen holders, document sleeve, storm flap, cell phone pouch and top carry handle. WARNING: This product contains a chemical known to the State of California to cause cancer, birth defects and other reproductive harm.





Write a Review
I have had this bag with me 365 days a year for the past 7 or 8 years. It is getting a little worn and faded but still up to the task. Been all over the planet with this bag and have yet to find a better replacement. Not too "purse-like" but I don't care because of the functionality. Is bigger than the measurements suggest. Love it! Paul
I am over all happy with the bag. Ample room for my needs, plenty of pockets inside & out and a hard back that you can use to write on (as I do out in the field). My only complaint is the handle-strap. After 3 weeks of use the 'anchor' that holds the handle & shoulder strap to the bag separated (It's sewn on - The treading ripped out) and the bag dropped to the ground with laptop in it. Resewed the strap and am looking into either finding a metal fastener for the strap-handle or replacing the bag. So in short, I would recommend the bag for most uses but am no longer feeling that it's safe to carry electronics.
A durable and versatile bag with many compartments. After 2 years, the olive drab die has faded where the sun has hit it, but not drastically. This pack gets used often & is jammed full. The "storm flap" can be difficult to fasten when at capacity, but careful packing solves this most of the time. For this I wish it had an adjustable fastener in stead of the twist buckle. I'm using it to hold tools some reference material and a welding jacket. There isn't a single fray in the stitching so far. If all you're going to do is put a laptop in it, you will never need another bag.