July 19, 2017
8:06 pm
See On Instagram
July 19, 2017
8:52 pm
Just some military motivation on this Wednesday to get you through the rest of the week. See Post
July 20, 2017
2:11 pm
It's # and we want to know where our valuable customers are from! # 😁See Tweet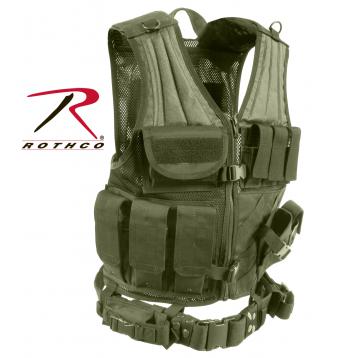 Want to become a Rothco Dealer?
Rothco's Tactical Cross Draw Vest is constructed with a heavyweight polyester mesh.
Item 6384 Multicam is made of 1000 Denier Cordura Nylon, 100% Polyester





Write a Review
Hi all i am from the UK and i bought this vest which is the best yet. This could have some improvements for example detachable pouches so they could be swapped from either side for left or right handed people and maybe pockets on shoulders. This could also have a little moor multi cam on pocket covers. This is very strong vest and well made i would recommend. Well done to Rothco please sell more to the UK.
Hi,This looks to of great Quality & Design and i would love to have one but there are no suppliers of the 6384 MULTICAM TACTICAL CROSS DRAW VEST anywhere in the United Kingdom. Many of my colleagues have also said the same since i showed them. Many Thanks. CL.. Please could you assist me on this nature.
Awesome vest.. you can even fit a hydration bladder in the back. This thing is tough.