July 28, 2021 6:30 pm
What's your essential item for camping? 🍂 See Post
July 28, 2021 1:55 pm
"10 Incredible Team USA Olympic Athletes Who Also Served Facebook" Read it here: See Tweet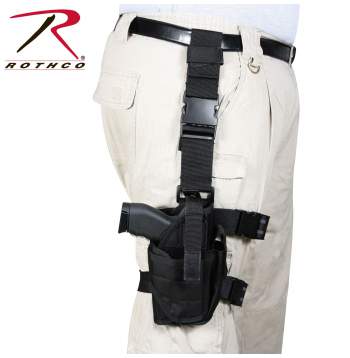 Want to become a Rothco Dealer?
Rothco Deluxe Adjustable Drop Leg Tactical Holster Accepts Most Size Frames Dual Adjustable Leg Straps With Quick Release Buckles Quick Release Belt Clip Adjustable Thumb Snap Clip Pouch Poly Webbing. MultiCam version features 1000D Cordura Nylon Multicam Fabric Is U.S. Made & Provided By Rothco , Multicam Fabric Is Licensed Through Crye Industries

WARNING:
California Residents
Click Here
For California Prop 65 Warning.
Coyote Brown, Black, Olive Drab, MultiCam





Write a Review
I would like to disagree with Mr. Foster's 2014 review, where he state's, "there's no way to adjust length of drop." Since the Drop Leg Holster (item 10752) does not come with instructions on how to set it up, it took me about 15 minutes of studying it to determine how to adjust the the drop length. It IS adjustable, but only minimally so; which is, as Mr. Foster says, inconvenient if you are around 5'7" in height (I'm 5'10" and it is at the minimal position where I can where it comfortably at the correct height). However, good research cand a little bit of study of the holster was all it took for me to be able to wear it. I have my Sig Sauer P227 in the holster with a spare mag in the forward pouch. I also have a multiple 3-mag holder on my left side. The whole rig is on a strong Duty Belt, and is comfortable to wear and stays put when I move around. This product was purchased at my local Army/Navy Surplus store, and they stock a pretty fair number of items by Rothco. I am very satisfied with my purchases of Rothco items. I look forward to possibly purchasing more in the future too.
This drop leg is much better than the one leg strap version it is replacing. The construction is very good and tough materials. I wear it a lot since I teach firearms on the range several times a week and having to wear a ballistic vest makes a standard OWB holster hard to use. It is very comfortable and once you get the straps all adjusted, the holster does not bounce, or move around like a lot of other holsters. The G41 I put in it stays secure and I like the mag pouch on the front. I carry a knife in it for my rig. Over all I would recommend this to anyone looking for a very fair priced drop leg holster. Good product for the money!
heavy durable construction, came assembled backwards; there's no way to adjust length of drop, so if you are short legged (30" inseam) or 5'7" or shorter, this may not be a viable option for you. I'll take it to upholstery shop to modify so I can use it.... but I shouldn't have to do that. The snap strap which holds the weapon secure is not sewn at optimal position- on mine the weapon is not secure enough to stay put while running or if in a struggle. Otherwise I like it.