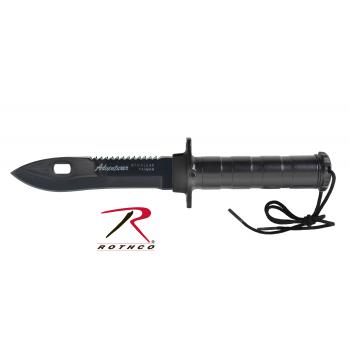 Want to become a Rothco Dealer?
Status: Restricted
Rothco's Deluxe Survival Knife is the ultimate survival knife featuring a ton of essential tools to help you in any emergency situation. The blade length of the knife is 5 1/2 and the total length of the knife is 10 1/2.
This item is restricted for export and cannot be sold for use in some countries outside the U.S. Please contact Rothco for details.

WARNING:
California Residents
Click Here
For California Prop 65 Warning.
Total length of knife = 10.5" / Blade Length = 5.25"
Fingertip saw, Fishing Line, Hook, Sinkers, Adhesive Bandages





Write a Review
Not a bad knife for the money. Be sure not to use the shape cutting edge on cutting wire. The wire cutter is designed to use the back side of the knife for wire. If you try to use the cutting edge the blade will hit the top screw. Plus you'll pit your cutting edge. The harpoon is a great spear when put into a notched wood branch or pole and secured with wire or paracord.
All of the contents of this knife are OK. Easy to improve. In the knife handle the contents are in a plastic tube with hollow end caps, great place to put Vaseline soaked cotton balls or paraffin wax candle for fire starters. Add assorted fish hooks, longer, better line, cotton string. I wrapped 5' of black 550 cord around the handle and replaced the snap closure with Velcro. Same with the sheath contents, replace or add useful contents and have an awesome survival tool at low cost.
Overall the knife if pretty good for the price. Some items could have better quality. There was NO mirror and in the whole box, NO INSTRUCTIONS at all. Maybe you can use the interior of the box to outline all the tools and small explanation for each of them. Still can not figure it out how to use the wire cutter. Thank you!
i have had this knife for years now, do not recall its original purchase place or price, but im sure it was lower end. it does all it says, and works great. blade not TOO sharp. slingshot actually works, how great it would be for hunting food..eh... better than not i am sure. as for the wire cutter mentioned above, the screws are only a problem if you use it wrong, and try to use the cutting edge as cutter, that is backwards, use the back edge of the blade to avoid damaging the cutting edge(cuts cow fence grade barbed wire like a boss...
Wire cutter feature only works if you remove 1 of the 5 screws that secure cutting plate to sheath. The bottom round headed screw, once removed, permits use of the sheath and knife as a wire cutter. The 4 remaining screws seem to be more than enough to keep plate secure
Construction is solid. Especially at this priceNo instructions so you will want to spend a bit of time learning it. Tool tray is hard to remove at first (may require pliers) but slide it in and out several times to break it in. Carefully look at how it is setup when you receive it. Note direction of tool tray - there is a right way and wrong way to install it.
It was Good but not overly great.It was satisfactory for all the jobs it claimed to do.