September 25, 2020 4:00 pm
TGIF! Let's hear it 😂 #CaptionContest See Post
September 24, 2020 5:25 pm
🔥 Get the look: Photo credit: # # # # See Tweet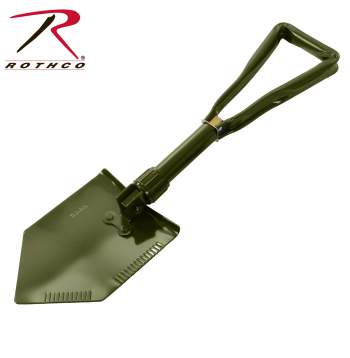 Want to become a Rothco Dealer?
Rothco Deluxe Tri-Fold Shovel, heavy duty steel construction, nearly twice the weight of standard tri-fold shovels, used by U.S. Military





Write a Review
For the size, price, and piece of mind this piece of equipment provides, L&S ranks this at 3 1/2 stars. Although it has a different paint job then GI shovels, this one is to be GSA compliant. GI shovels also did not have a Taiwan stamp on them either. With this ranking, we suggest this item to be an economical choice or secondary option to authentic GI items, but will most definitely preform. Even being solidly built, customers are reluctant to purchase Asian made goods, but also reluctant to pay for American made products.
Very good quality. Customer loved it.