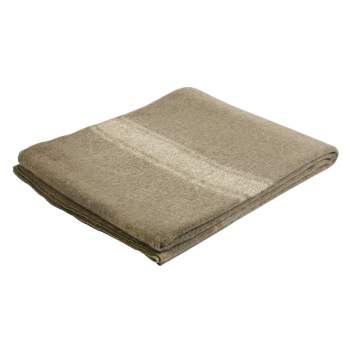 Want to become a Rothco Dealer?
This outstanding replica of the Italian Type Wool Blanket is naturally fire retardant and offers unparalleled warmth and comfort.
Italian Army Type Wool Blanket Replica
Naturally Fire Retardant 90% Wool Blanket
Heavy Weight Woven Blanket Provides Unbeatable Warmth and Heat Retention
Measures 62" x 80" Is Big enough to provide Ample Ground Cover For Camp sites and is a Perfect Addition To your Bug Out Bag
Military Surplus Style Blanket is great for Camping, hiking and Emergencies
90% Wool, 10% Blended Fibers





Write a Review
Great wool blanket, easy to carry on a pack and comfortable to sleep in, was a little too thin to keep you warm in cooler temperatures but definitely the best wool blanket I have come by. The cons are that it is pretty thin and I wouldn't recommend using by itself in a hammock below 0 Celsius, and that I had to dry clean mine before using because the whatever was on it made my skin peel off my hands. But after dry cleaning, I never had that problem. Would buy more and I recommend for anyone looking for a good, inexpensive wool blanket for camping, prepping, survival or bushcraft.