June 24, 2019 8:05 pm
With 8 front pockets, two side pockets, and one large main compartment, there is room for all of your gear in Rothco's New Canvas Pocketed Military Gear Bag. See Post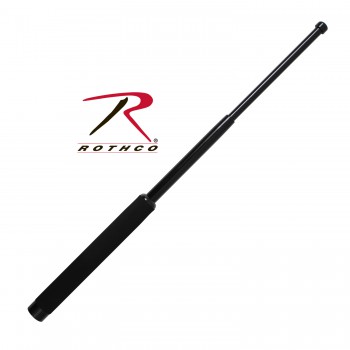 Want to become a Rothco Dealer?
Status: Restricted
Rothco's Expandable Baton with Sheath features a steel shaft, foam grip handle, friction lock and nylon sheath.

WARNING:
California Residents
Click Here
For California Prop 65 Warning.
16 Inches, 21 Inches, 26 Inches, 31 Inches





Write a Review
Excellent product! The handle fits the hand very well, Comfortable. The baton is light weight and easy to manipulate. very strong and durable
i bought this off my local military surplus and i must say it is a outstanding baton. better than a 21 or 26 inch baton in my opinion. i had a 26 inch baton before this 16 inch and it broke too easy
I bought one of these batons to keep in my car. It is compact, ergonomic, and tough. I would definitely recommend it to a friend.
Gracias por su comunicación. Estos artículos sólo están disponibles en Colombia con una licencia válida del US Departamento de Comercio. Por favor avise Rothco directamente para los detalles.TRANSLATION: Thank you for your communication. These items are only available in Colombia with a valid license from the U.S. Department of Commerce. Please contact Rothco directly for details.
10031 26' BLACK STEEL EXPANDABLE BATON W/SHEATH, 0078 21' BLACK STEEL EXPANDABLE BATONS W/SHEATH 10131 31' BLACK STEEL EXPANDABLE BATON W/SHEATH Como hago para traer a Colombia (bogota) estos articulos, y cuanto me costaria? Seria bueno ampliarlas ventas ya que su calidad es muy buena
This is a wonderful choice for academy students that don't have the money to spend on an ASP. My husband took it to his academy class and everyone loved it.