July 24, 2017
8:29 pm
See On Instagram
July 25, 2017
8:42 pm
Rothco Plate Carrier Vests - Built and Designed for Duty. Check out more of our tactical and plate carrier vests here: https://www.rothco.com/category/rothco-military-tactical-vest See Post
July 25, 2017
10:25 pm
# # Repost via @ See Tweet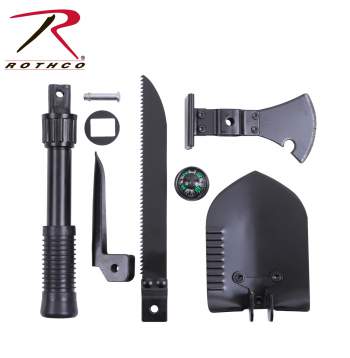 Want to become a Rothco Dealer?
Rothco's 5-In-1 Multi-Purpose Tool features heavy steel construction with a compass, interchangeable shovel, saw, axe and pick. The 5-in-1 tool also comes with a nylon carry case and makes for a great survival tool whether you are camping in the great outdoors or packing your bug out bag. WARNING: This product contains a chemical known to the State of California to cause cancer, birth defects and other reproductive harm.
With Shovel Attached - 4" x 9.75" x 1.25"
Shovel, Saw, Axe, Pick, Compass