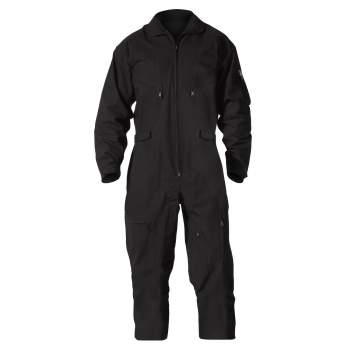 Want to become a Rothco Dealer?
Rothco Flightsuits provide the perfect combination of strength and style, making them perfect for costumes and customization. This pilot suit is constructed with a strong Cotton/Poly material that offers superior durability, reliability, and performance. It features 4 strategically placed zipper closure slash pockets paired with numerous leg pockets, a 2-way front zipper closure to help fasten your suit efficiently, adjustable waist and wrist cuff tabs with hook and loop closures for the perfect fit, and underarm holes for breathability.
COSTUME-READY COMFORT: Flight coverall is built to feel like the real deal, making it perfect for costumes! But we didn't stop there. We know that keeping cool under pressure is key, so this bad boy includes underarm vents for breathability.
HIGH-CAPACITY STORAGE: With 4 strategically placed zipper-closure slash pockets, numerous leg pockets, and a convenient utility pocket complete with a pen holder, you'll have plenty of storage space at your fingertips.
WEAR IT YOUR WAY: Customize your gear with 3 loop fields for flags and morale patches, and show your name proudly with the hook and loop badge holder on the left chest
THE PERFECT FIT: Stay ready with our Tactical Jumpsuit, featuring adjustable hook and loop waist and wrist cuff tabs for an impeccable fit. The 2-way front zipper closure ensures easy wearing and removal.
IT'S All IN THE DETAILS: Made from a high-quality cotton/poly blend. Plus, we've added pleated zippers on the front-bottom of the pant leg for the ultimate cooling factor. The reinforced shoulders ensure that this coverall will last forever.





Write a Review
Over all these are good as a pose to paying $70+ dollars on a genuine one, see my review of it! https://www.youtube.com/watch?v=5ZOLPbhWvek
These Flightsuits are currently being used by United States Air Force in Kuwait.
This item is currently being worn by the Navy in California
This is a good item. However a little more attention should be made with the QC issues on this item. All the ones that I have ordered (and seen in other stores) have had the velcro name patch in a strange area. The waist and wrist straps need more velcro to actually be able to use them. Other than that.....This is a good product...Price needs to be adjusted (lower) until the QC issues can make this a better item.