July 27, 2017
10:53 pm
See On Instagram
July 27, 2017
8:27 pm
Our Canvas European Rucksack is the perfect on the go bag, featuring various sized pockets that makes storing gear easy. Check out our entire line of the Canvas European Rucksack here: https://www.rothco.com/product/rothco-canvas-european-style-rucksack See Post
July 28, 2017
8:50 am
@ If we bring in a short length we will let you know!See Tweet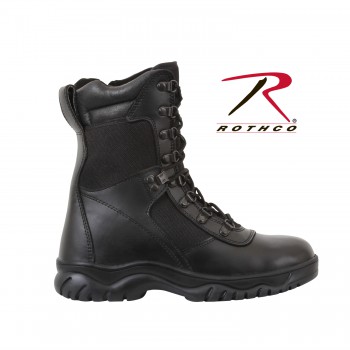 Want to become a Rothco Dealer?
One Of Our Number One Tactical Boots, Rothco's Forced Entry Tactical Boots Are Constructed With A Full Grain Leather Vamp, Action Leather Upper, Pigskin Leather Collar, Steel Shank Gusseted Tongue Slip, Resistant Sole, Rust Proof Hardware Speed Laces And Have Moisture Wicking Lining. The Boots Are Available In Sizes 5 To 15 (Including 1/2 Sizes Up To 10 1/2) WARNING: This product contains a chemical known to the State of California to cause cancer, birth defects and other reproductive harm.
Gusseted Tongue, Slip Resistant Sole, Rust Proof Hardware, Moisture Wicking Lining
full grain leather, nylon





Write a Review
GREAT BOOT FOR GREAT PRICE.
I am in the Texas State Guard when I was called to Active Duty Hurricane Katrina 12 hour shifts not one Blister Best Boot I Own wish they made it in Tan Laura Mae's Variety Store
Several customers report that these have been the best boots they have bought. Much more comfortable than the $100 pair out there.