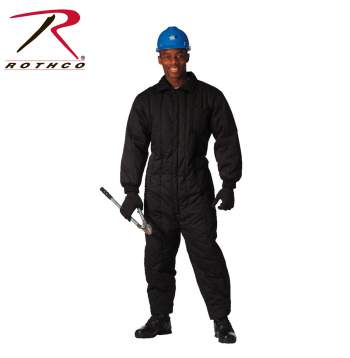 Want to become a Rothco Dealer?






Write a Review
I bought this jumpsuit for my husband whom work outside(Longshoreman/Stevedore)in the very cold at times, and reaaly loves the suit. Especially the zipper on the pants that aloow easy access to putting on and taking off the work boots. The suit is so wwarm and comfortable, we will be buying another one soon!! This One is definitely a Keeper.
I bought these coveralls several years ago for riding a motorcycle to work and back. I worked night shift at the time. Love the zippered legs. No fighting leather chaps and warmer also. Keeps you nice and warm on the bike.
I love this coverall. I asked for it as a Christmas gift, for wearing when I blow snow. I bought a 4x ( I wear a 3x biu figured i would need to layer under it. As it turns out, the insulation is so good, I slip it on over underwear and socks and it keeps me warm enough to get the job done. The zipper on the pants legs makes it easy to put on large boots and zip the leg around it. Tall collar is great for blocking the wind. I know it's mainly a practical gift, but I every time I use it I think: now this is gift that keeps giving. Totally worth it.