October 16, 2019 10:32 pm
Gear up and get warm with our versatile fleece liner / jacket See Tweet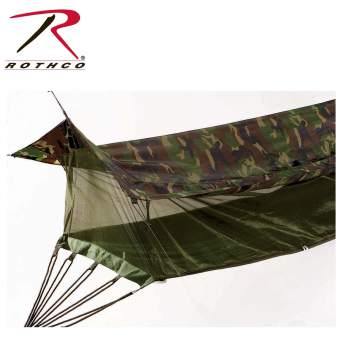 Want to become a Rothco Dealer?
Rothco's GI Style Jungle Hammock provides elevated shelter with protection from outside elements. The hammock features a mesh netting, Nylon coated roof and heavy Cotton Canvas floor.
cotton canvas w/ mesh netting w/ tafetta nylon
Olive Drab, Woodland Camo





Write a Review
For first time user instructions on how to hang it cause doing it wrong can rip or hurt some one.. advice on top and bottom if you hang top to high and bottom to low it well tear roof of dumb yet things that happen. once one does hang it often you get better at it. can some times use a stool something to climb on to hang it eazy on bottom but the roof is a lil high on a short guy . To better it for rain or cold maybe a flap the covers screens snap butten or zipper? On the plus side light easy to store in pack hang any where. better on your back you can go so many more places then a tent swamp areas mountian sides so once you have one other then just being one person in it unlike a tent there great!! had 2 before this one these being my past problems and heavy weight don't help friend broke one to heavy
Have Used and Sold Dozens of these. Good Value for Hammock and Shelter. OK for LIGHT rain situations - for driving and sideways rain be sure to add a tarp over it. Be sure to pay attention to the maximum capacity as overloading has caused failure.