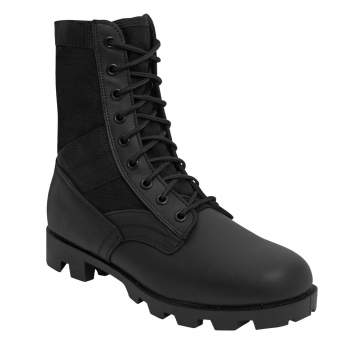 Watch The Video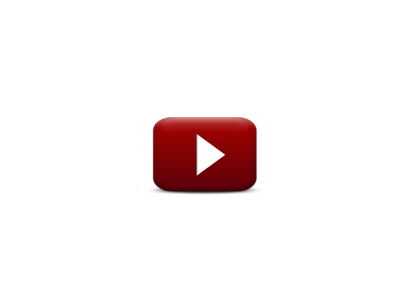 Want to become a Rothco Dealer?
Take on tough terrain in Rothco's Jungle Boots. With decades of proven performance, Rothco's tactical boots feature an unbeatable design that combines the rugged durability of a combat boot and the lightweight feel of a running shoe for all-day comfort. With a breathable and flexible canvas/nylon composition, supportive 8 inches ankle height, high-traction rubber outsole, and protective steel shank, these tactical combat boots are perfect for your next adventure.
Perfect for traversing any terrain – the Upper Section of The Jungle Boot Is Constructed with a Breathable Canvas Fabric with vent holes that will keep your feet cool and dry. These authentic Vietnam-era style boots were designed for hot weather climates
Thick Vulcanized Rubber Cleated Panama Outsole Provides Enhanced Traction While You Are On The Move. For decades the Panama sole has been a proven choice for active duty and public safety personnel for its durability and wearability.
Internal Steel Shank Reduces Strain on Your Heel and Calf So You Can Endure Long Days On Your Feet
Combat Boot Provides High Ankle Support With Nylon Uppers, Rugged and Stylish Action Leather Vamp with reinforced double and triple seams around the heal for a dependable durability
8 Inch height tactical boots, with a 9 eyelet lace system completes the outdoor shoe
The tactical Jungle Boots Are Made to original mil-spec and typically run about a size larger than your standard shoe. For an ideal fit either wear two-pairs of socks (as originally intended) or size down.
Great for active duty, public safety, and security personnel and perfect for outdoor activities like camping, hiking, fishing, and more.

WARNING:
California Residents
Click Here
For California Prop 65 Warning.
Action Leather Vamp, Canvas / Nylon Upper, Steel Shank
Steel, Leather, Nylon, Canvas





Write a Review
I originally had a pair of these boots and used them whilst I was serving in the Australian Army during the early 1980's, they are still going strong even now after many adventures and much tough love. So when I saw these on line I was pleased and thus checked the manufactures website to find information pertaining to these boots. So after examining the information I purchased a pair of the boots. They look the fairy similar to my original pair but the quality is somewhat different from the US military grade of footwear. More reinforced stitching plus the steel plate is from the front to the back of the boot. In the write-up mention is made that they are not military grade. I later noticed that the manufacturers USA web site list all their footwear as being made in CNA ( China). This is not always a bad thing perhaps just different that the original USA made boots. My original pair are size 12R so if you are choosing a pair my estimation is that they are about 2 sizes bigger and also very broad in fit. Also I noticed that the height of the toe box much higher So I have added a photo of both my original US issue boots and the new pair. So I you are buying them perhaps measure your foot and send a request to double check size. I'll try a size10w and see how that goes. I must admit ordering online makes things a little more difficult. Have requested a return a get a size 10. Looking forward to see how this works since I'm in Australia. Hope this might help you select the right size. Cant wait to get the replacement too see how they stack up.
So far, it has been a good boot for me. It is not govt. issue from Vietnam era though. Does not have the mesh Saran liner either. B rating
Great boot for the money. The only issue I have found is the sole is separating after only a couple months. Some basic shoe repair glue or rubber cement will fix the issue. The soles also leave marks on some of the tile floors I walk on. Other than that they are comfortable and easy on the feet.
It was good for the first month, except it didn't shine too well, the leather was a bit gritty. The rubber sole also kinda rubbed off pretty good on the concrete but stopped for me after I started getting the soles caked in mud. Now, after a Month and a half or so, one of the metal eyelets ripped out of the leather. Then again, I started to do some running and playing lacrosse in them after the first month. It's decent but it could have been much better. Another thing to keep in mind is that they're huge.
I bought a pair of these boots eight months ago. The break-in period is worse than Dr. Marten's, by far. I would recommend using some type of insole, and the thickest wool socks you can find, as the soles aren't too foot-friendly. I have used this boot for rough, off-trail hiking, mountain climbing, and work, and it has met my expectations. The tread is excellent for climbing steep hills, as you can grind your foot into the dirt and create a solid foot-hold. The tread has worn a bit faster than I had expected, but I probably have another eight months left in them. As others have said, the leather will crack at the stress point on the top. A way to counter this is to use a product called "mink oil". This keeps the leather hydrated and waterproof, helping to prevent cracks. The soles aren't non skid, either- if you're walking on anything like a gym or linoleum floor, walk carefully. MAKE SURE TO ORDER AT LEAST ONE SIZE SMALLER, THOUGH! I normally wear a men's 11R, and I went all the way down to a size 9R, and these fit snug. Overall, I am happy with these boots, and would buy them again.
Nice boot good tred, but ripped when braking in on the seam of the canvas and rubber part not for heavy use in my opinion
I have this kind of jungle boots I buyed and they hold up Ive had them for over a year they hold up well nice army boots I wear them when its cold sometimes its warmer than tenni shoes is...
Excellent products. Good shipping delivery.
Very good. Very practical.