July 21, 2017
9:19 pm
See On Instagram
July 22, 2017
10:06 am
Paracord is an essential survival item and can be useful in many situations. Watch our video and learn how to make 3 different kinds of survival bracelets yourself! You can view all of our paracord and accessories here: https://www.rothco.com/category/rothco-paracord See Post
July 22, 2017
10:25 am
Are you prepared for Hurricane Season? Read our blog on survival items you should have in case of natural disaster.… See Tweet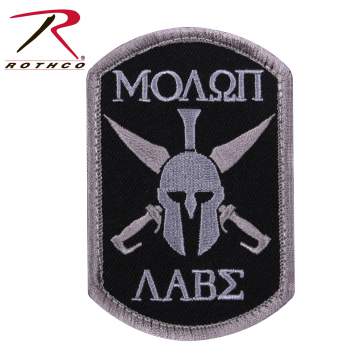 Want to become a Rothco Dealer?
Show off your inner Spartan with the Rothco Molon Labe Patch; featuring an embroidered "Molon Labe" text and helmet and sword image.
"Molon Labe" Logo
Features A Strong Nylon Hook
rayon Threading
Soft cotton backing
Rayon Thread, Cotton Backing, Nylon Hook





Write a Review
That's a very odd mix of non-Greek and the wrong Greek letters. In English it would be mth?op ?lbs. Most people will probably see what's intended but it's far from accurate.