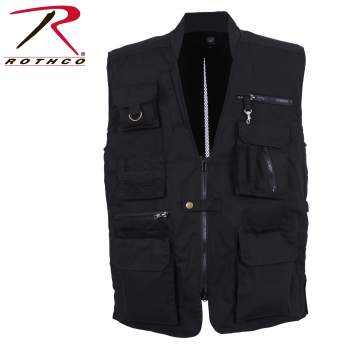 Want to become a Rothco Dealer?

Rothco's Plainclothes Concealed Carry Vest takes the outdoor travel vest to the next level with over 20 different compartments designed for everyday carry and concealed carry. Built from a durable cotton/poly fabric, Rothco's Concealed Carry Vest features two large CCW pockets on each side of the vest designed to comfortably conceal a firearm or valuable personal belongings such as tablets and smartphones. In addition, the interior of the convert vest features four easy to access mag pouches (two on each side) with secure hook and loop closure. The outside of the tactical vest is equipped with 16 pockets with zipper and hook and loop closures designed to carry all your essential gear. The right front chest pocket features a tab with a D-Ring. The back of the concealed carry vest also features a large cargo pocket with hook and loop closure. A vented back with mesh lining will keep you cool under the most demanding situations, and the adjustable side waist tabs allow for an optimal fit. Rothco's Plainclothes Concealed Carry Vest is the perfect everyday tactical vest.
Snaps, Hook and Loop, Buckle, Zipper
60% Cotton, 40% Polyester





Write a Review
I have worn this vest on several occasions now and small problems I have noticed are when you sit down the bottom zipper rides up. The inside pockets need to be more reinforced because of sag caused by weight of concealed weapon. If you could have some kind of reinforcement strip that is sewn into the fabric in pockets where gun goes and runs from one pocket and up and around back of neck down to other pocket, maybe cordura or thin leather, the weight would be supported across the shoulders instead of the side of the vest weapon is in.
This vest is a wonderful product with more than enough pockets in the front to hold various items. The vest also contains two inside enclosures. I am very happy with this product and can't thank your staff and company enough for the opportunity to win this item from a Sweepstakes. Happy 55th Anniversary Rothco! Best Regards! Helen Wang
Very Nice Vest.. Well Made. Wish there were other colors.