July 21, 2017
9:19 pm
See On Instagram
July 22, 2017
10:06 am
Paracord is an essential survival item and can be useful in many situations. Watch our video and learn how to make 3 different kinds of survival bracelets yourself! You can view all of our paracord and accessories here: https://www.rothco.com/category/rothco-paracord See Post
July 22, 2017
9:07 pm
# # 💚 Repost via IG @ See Tweet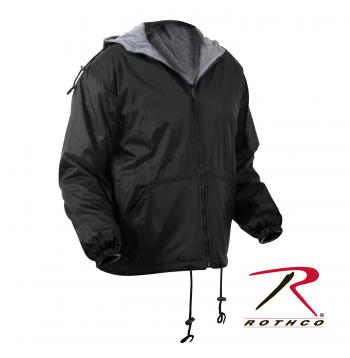 Want to become a Rothco Dealer?
Rothco's Reversible Lined Jacket with Hood is designed to keep you warm and dry. The jacket features a waterproof nylon outer shell which will protect you from outside elements, such as rain and snow. In addition the jacket features a 100% polyester fleece lining which will keep you warm by locking in body heat and since 90% of the body's hear is released the heard the jacket also features a drawstring hood.
100% Nylon Outershell , 100% Polyester Liner





Write a Review
Great jacket. Very water resistant, light yet warm into the 30's. One big minus;after a few years the elastic in the wrists totally gave out and the sleeves slid over my hands. Otherwise still in perfect shape.