July 20, 2018 7:40 pm See On Instagram
July 21, 2018 8:00 pm
Rothco's Fast Mover Tactical Backpack features an enhanced design to aid in comfort, durability and all-day mobility. — Products shown: Rothco Fast Mover Tactical Backpack. See Post
July 22, 2018 12:00 pm
Rothco's Lightweight Tactical Vest has stripped away the bulk of a typical tactical vest for an ultra-lightweight f… See Tweet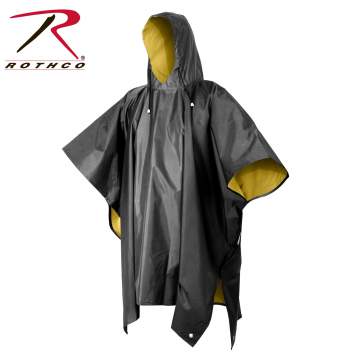 Want to become a Rothco Dealer?

Rothco's Reversible PVC Poncho is a perfect addition to your bug out bag or any of your survival or camping packs.
Heavy Gauge PVC Material to survive the most intense rainfalls
Features drawstring hood and secure snap closures
Reversible With Yellow Interior Of Poncho
Perfect to add to bug out bag, camping pack, or even hiking
WARNING: This Product Contains A Chemical Known To The State Of California To Cause Cancer, Birth Defects And Other Reproductive Harm.
WARNING: This product contains a chemical known to the State of California to cause cancer, birth defects and other reproductive harm.