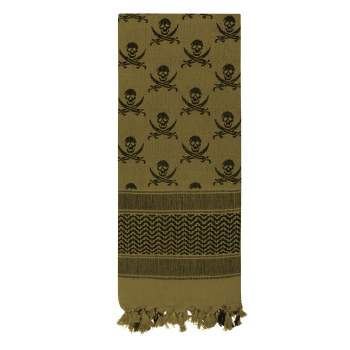 Want to become a Rothco Dealer?
Worn while traveling through a desert, snowstorm, and any other extreme weather conditions, Rothco's Skulls Shemagh Keffiyeh Scarves are adaptable to any environment. Great as a face mask, neck gaiter, headwrap, and much more!
Skull Shemaghs Are Constructed of a Breathable Woven Cotton Material That Provides Both Comfort and Durability While Protecting Your Head and Neck From the Sun, Snow, and Debris
Measuring 42" X 42", the Tactical Scarf Can Be Wrapped Around Your Head and Neck in a Variety of Ways – Can Be Worn as a Face Mask, Neck Gaiter, Headwrap, and Much More
Versatile Skull Keffiyeh Is a Great Survival Tool That Can Be Manipulated and Used as a Makeshift Sling, Tourniquet, Pouch, and Much More – a Must-Have for Your Bug out Bag or 72 Hour Bag
Skull Shemagh Scarves Are Worn by Military Personnel Worldwide and Make for a Great Fashion Accessory as Well
Available in Multiple Colors





Write a Review
The material is very good quality and the printing first rate. I live in a hot humid climate with lots of sun. (Florida) and wear these around my neck anytime I am goign to be out in the sun hunting or hiking. Absorbs sweat well and helps to keep the sun off my neck. Also large enough to put over your head for some shade when needed. I like these a lot and have given several to other firearms instructors I teach with as they really liked mine and wonted one for themselves.
This is a very well made scarf. Great colors and a great addition to your tactical bail out bag.