July 11, 2020 12:00 pm
The tools you are looking for. Shop survival tools: https://www.rothco.com/category/rothco-military-and-tactical-gear See Post
July 12, 2020 9:42 am
Color Camo for the win 🔥🔥🔥 Shop all the colors: # # # See Tweet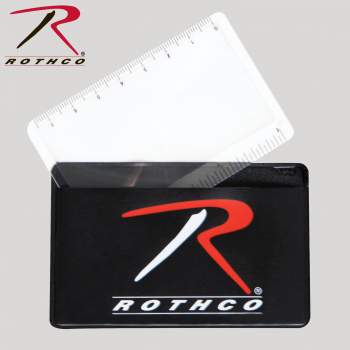 Want to become a Rothco Dealer?
Inspect and measure hard to see items/text with Rothco's lightweight, flexible, and durable survival magnifying card & ruler. Pocket size magnifier is great for reading maps.
Easily Store Magnifying Card In Your Pocket, Wallet, Or Pouch For On The Go Access To Clearer Vision
Lightweight, Flexible, And Durable Fresnel Lens Is Built To Withstand Any Outdoor Effects
Lens Is Flat On One Side, Ridged On Other
CM's And Inches Printed Along Edges To Double As A Measuring System
Convenient Size Of Most Standard Credit Cards (3.25" X 2 1/8" And .4MM Thick)
This Magnifying Card Fits In Most Wallets and Small Bags
Prepare Your Bug Out Bag With This Essential Survival Tool

WARNING:
California Residents
Click Here
For California Prop 65 Warning.