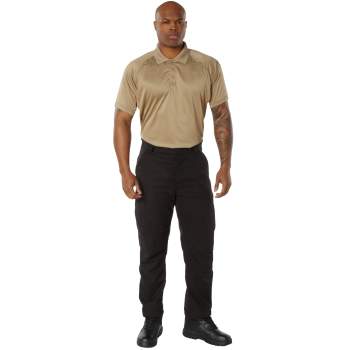 Want to become a Rothco Dealer?
Rothco's Tactical Duty Pants are the perfect combination of function & comfort with enhanced rip-stop stain-resistant materials and 8 multi-functional utility pockets.
These Long-Lasting Rugged Tactical Pants Are Made With A Poly / cotton Rip-stop Material
stain resistant finish Repels Bodily Fluids - Great for First Responders and EMTs
expandable waistband Aids in Comfort and Mobility while on Duty
Extra Wide Belt Loops are Designed to Fit Duty Belts
Two Front Slash Pockets With Reinforced Edges Help Prevent Wear and tear
Two Pleated Side Leg Pockets With Hook and Loop Closure Offer Plenty of Storage for Duty Gear and EDC (everyday Carry)
Two Rear Inset slit Pockets With Hook and Loop Closure
Right Front Inside Utility Pocket
Mag Pocket With Hook and Loop Closure
Reinforced Knee With Knee Pad Insert Slit Allows for Additional External Protection and Comfort - Ideal For Work and Outdoor Use
reinforced seat Provides Maximum Durability and Longevity
Zipper Fly With Snap Waist closure
XSML- waist 27 inch, . SM waist 31 inches MED- waist 35 inches LRG 39 incheswaist XLRG 44 incheswaist. 2XL 47 inches 3LRG 51'' waist 4xl 55 inches waist 5xl 59 inches waist 6xl 63 incheswaist 7xl 67 incheswaist
Cotton, Rip-Stop, Polyester
65% Polyester / 35% Cotton Rip-stop Construction: 87X50 20X14





Write a Review
I think they need to come in other colors. FDE for sure
Bought one of these to test out a couple months ago, and have been wearing it consistently. It has definitely been in my favorites of all time list until the velcro in the small left leg pocket has just starting coming off the pocket itself (not the flap), so that is a bit unfortunate. Still going to order a couple more and look more closely at the quality, but the fit, feel, and feedback on the look have been positive.
They've combined the best features of the 5.11/Propper style pants and the TRU-SPEC 24/7 series pant into one. I've had nothing but great reviews from my store and people are LOVING them. They're even approved for wear at departments that have 5.11 and Propper contracts so that makes everyone happy as well. ? Keep up the good work Rothco
Rothco asked for comments on these TDU pants so, here goes. I think that all of the pockets (front and back pockets) are too low on the garment. I carry my wallet and a backup firearm in a wallet holster and they were both down on my upper thighs instead of on my backside. This makes it uncomfortable to sit down. The bottom of the pockets should be above the "crease" when you sit down so you're not sitting on your pocket contents. I would also like to see flap pockets with velcro closures (similar to the leg cargo pockets) because they are more secure and because the velcro inside of the pocket requires the pocket to be deeper so the contents allow the velcro to close. I would not recommend any other kind of closure because of the additional time it takes to access the contents of the back pocket (i.e. buttons or snaps). The front pockets seem to be much lower than pockets on comparable TDUs and they are not as deep. I think the front pockets should be raised some and perhaps made slightly deeper. I don't feel confident that items won't fall out of these pockets. I would also like to see the top edge reinforced at least in the areas where a knife would be clipped. I would like to see an option for a heaver material. These feel kind of like the taclite fabric on some of my other pants. This fabric is just too thin to wear or to protect well. The belt loops should be thicker and more substantial. I'm not sure they would hold up under load as they are. The fit is good. Overall, I think this is a great initial design but if you really want to compete with the leaders in this category, these few tweaks should put you well on your way to success.
I bought a couple of pairs with my last order. I like the knife pocket that is partially located in the right front pocket. The mag pocket is located in front of the left pocket and can fit some cell phones. Very comfortable waist band that moves with you and gives when you need it to. I wish they came in more colors. How about it Rothco? I think they are a better value than the 5.11 brand. I would have given it 5 stars but a belt loop came unsewn. A few stiches and I had it as good as new. No problems otherwise and I wear them quite a bit.
These are my favorite pants!
Nice product. Got a pair for myself with the last order my company placed, they are now my favorite pants. The cellphone pocket makes a good mag pouch.