July 26, 2017
6:21 pm
See On Instagram
July 27, 2017
8:27 pm
Our Canvas European Rucksack is the perfect on the go bag, featuring various sized pockets that makes storing gear easy. Check out our entire line of the Canvas European Rucksack here: https://www.rothco.com/product/rothco-canvas-european-style-rucksack See Post
July 27, 2017
3:21 pm
Discover this months # See Tweet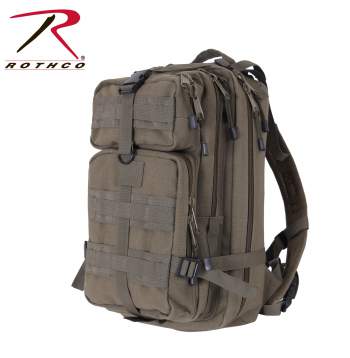 Want to become a Rothco Dealer?
Rothco's Tacticanvas Go Pack combines the tactical elements of our Medium Transport Packs but with a classic military canvas material. The pack features a heavy weight canvas with polyester web straps. The bag has one large main zippered compartment w/a large interior mesh pocket, great for storing everything from books to essential survival supplies. There are also 3 additional zippered compartments, which make for great storage as well. The adjustable padded shoulder straps and padded back with breathable mesh backing make the pack ideal for heavy and or long trips. In addition the bag has a top carry handle, top Y-Shaped adjustable quick release cinch strap and side cinch straps.
Cotton Canvas, Polyester Webbing
M.O.L.L.E. Compatibility, Multiple Compartments & Pockets, Heavy Duty Zippers, Adjustable, Padded Shoulder Straps, Padded Back w/ Mesh Backing, Top Carry Handle & Top And Side Cinch Straps
Zipper, Side Release Buckle





Write a Review
AWESOME! This bag has tones of space for everything, and its good on the eye.