July 24, 2017
8:29 pm
See On Instagram
July 25, 2017
8:42 pm
Rothco Plate Carrier Vests - Built and Designed for Duty. Check out more of our tactical and plate carrier vests here: https://www.rothco.com/category/rothco-military-tactical-vest See Post
July 25, 2017
10:25 pm
# # Repost via @ See Tweet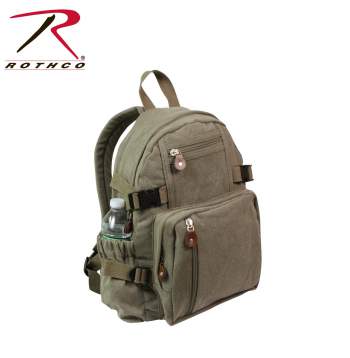 Want to become a Rothco Dealer?
Rothco's Vintage Compact Backpack features a washed Cotton Canvas material, padded shoulder straps, and front zippered pouches, one main compartment, 2 Side pockets with elastic and tie-down straps and top carry handle. Rothco's Vintage Canvas Backpack is the perfect bag for someone on the go!





Write a Review
I own 2 of these backpacks. I like the size. They are big enough to hold all my necessities. I would recommend these.
found this at a yard sale what a score. Love it just big enough to carry my daily neccessities. With easy access outside pockets.And cute as heck. Get compliments on it all the time.