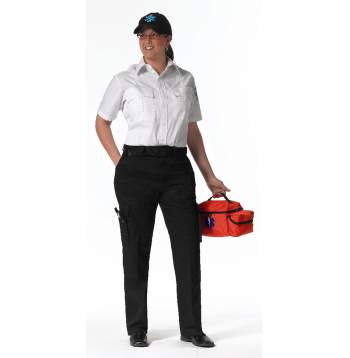 Want to become a Rothco Dealer?
Women's EMT Pants from Rothco are specially designed to provide first responders with the function, comfort, and protection they need on the job. Made with a durable 65% Polyester/35% Cotton blend that provides all-day comfort, these pants feature reinforced knees, a low waist style, and a stretch waistband for extra support. To hold all your essentials, the first responder pants feature nine versatile pockets including slot pockets for scissors, flashlights and other essential supplies so you can be prepared for any emergency situation. Whether you are an emergency medical technician, first responder or just looking for functional, comfortable pants that can handle any environment, Rothco's Women's EMT Pants will always be up to the job.
COMFORTABLE YET TOUGH: Crafted from a sturdy 65% polyester and 35% cotton blend, these pants are built to last through the toughest circumstances. Plus, they're designed with your comfort in mind so you can focus on the task at-hand.
BUILT FOR PERFORMANCE: Our pants provide you with the flexible toughness you need on the job. With reinforced knees, an expandable/stretch waistband, and low waist style, you'll be able to move quickly while maintaining a professional look.
CONVENIENT STORAGE: Be Prepared for Anything with EMT Pants Featuring 9 Pockets for All Your Essential Supplies! Equipped with Slots for Scissors, Flashlights, and More, These Versatile Pants are a Must-Have for Any First Responder.
NO-HASSLE DESIGN: Our EMT Cargo Pants features a secure and efficient waist closure with dual hook and bar fasteners, as well as a reliable zipper fly.
FIRST RESPONDER-FOCUSED: Rothco carries a massive selection of EMT and first responder gear specially designed to support the crucial, fast-paced tasks you face on the job.
65% Polyester / 35% Cotton





Write a Review
I really like these pants alot. The only issue with them is the length. I am 5'9" and I like my inseam of my pants to be at least 32" if not 33". A 31" inseam is great for shorter women, but not tall. These would be 5 star pants if yuo could request your own length.
i own 2 pairs of these pants. i love them im actually waiting on a pair of size 2 pants because the stor didn't have them in stock.
Customer request for light stretch material - also just below waistline (modern fit). Again extra long lengths are in demand for womens pants (inseam 32.5-35.5). Quality womens EMT pants are rare -- especially affordable quality pants.
Stacee and the crew at Philip County EMS are grateful and would like to thank Rothco for adding Women's EMT pants to the line. They are a great fit and are looking forward to seeing their local Rothco dealer and outfitting the rest of the staff.
I just tried on the Rothco Women's EMT Pants and I think they are absolutely the best Women's EMT pants I've ever tried on. Every other brand I try on come up way too high in the waist, but the Rothco ones were just right.