September 20, 2021 9:37 am
Did you know September is #? Checkout these 12 ways you can be prepared. See Tweet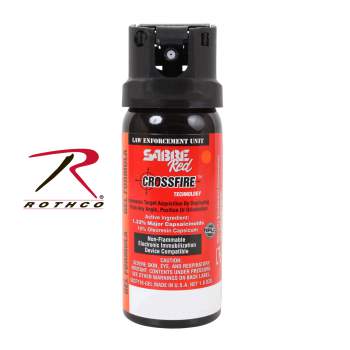 Want to become a Rothco Dealer?
Sabre's Red Crossfire Gel is the ultimate pepper spray for target acquisition and cross-contamination prevention. Not available for sale in NY, MA, WI, and HI.
Intended For Law Enforcement Professionals
Crossfire Technology Maximizes target acquisition by allowing Gel Deployment From Any Angle
Gel Formula Increases Accuracy and Greatly Reduces Cross-Contamination by allowing the gel to liquefy on contact
10% Oleoresin Capsicum And 2 Million Scoville Heat Units For The Ultimate Defense Spray
Non-Flammable
Comes in Two sizes: 1.5 Oz and 3 Oz
The 1.5 Oz MK-3 Crossfire Gel Deploys 6 one Second Bursts, while the 3 Oz Canister (MK-4) shoots 13 one second bursts
Shooting Range of 15 – 20 Feet
5-Year Shelf Life
EID (Electronic Immobilization Device) Compatible
ISO 9001:2008 Certified
Not available for sale in NY, MA, WI, and HI.

WARNING:
California Residents
Click Here
For California Prop 65 Warning.