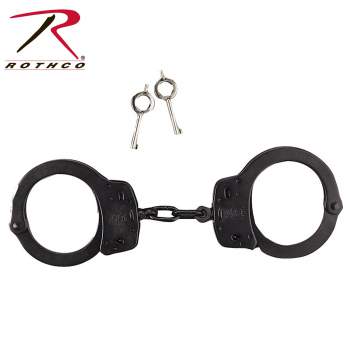 Want to become a Rothco Dealer?
Status: Export Restricted, Requires License, Restricted
The Smith & Wesson handcuffs are made of carbon steel. The handcuffs have 23 locking positions. Handcuffs meet U. S. National Institute of Justice tests for workmanship, strength, corrosion, and tamper resistance.
Police Issue Carbon Steel With Nickle Finish Smith and Wesson Handcuffs
Passes All NILEC and NIJ Specifications
Double Lock Slot Both Sides
23 locking positions
Wrist Opening: 2.04" irst Notch Inside Perimeter: 8.4" Last Notch Inside Perimeter: 5.8" Tightest Inside Width: 1.8" Distance Between Cuffs: 2" Maximum Overall Length: 8.98"
Uses Standard Key
This item is restricted for export and cannot be sold for use in some countries outside the U.S. Please contact Rothco for details.
Carbon Steel w/ Nickel Finish
Wrist Opening: 2.04 inches