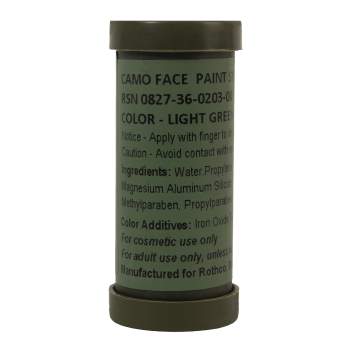 Want to become a Rothco Dealer?
Rothco's NATO Camo Pain Sticks come with two colors each for the perfect camouflage effect. Available in Woodland (Light Green And Loam Color Camo Stick) | Jungle (Black And Olive Color Camo Stick) | and Foliage (Green And Urban Color Camo Stick).
Quick and simple application directly from stick or with fingers (avoid contact with eyes)
Lightweight and compact face paint tubes easily fit into your pocket for convenient transportation
Camo face paint is designed to withstand sweat and rubbing for use in the field
Easily washes off with soap and water
Woodland - Single Stick with Light Green And Loam
Jungle - Single Stick with Black And Olive
Foliage - Single Stick with Green And Urban
Perfect for tactical and military operations, but also great for hunting, MilSim, Halloween costumes, and more
Jungle, Foliage Green & Urban, Woodland Camo





Write a Review
These sticks seems to be better and more easy to use than G.I.! It has a good smell, it is easy to apply to skin and very easy to remove with hot water and soap!