July 22, 2017
4:50 pm
See On Instagram
July 23, 2017
9:12 pm
Take an indepth look at what makes our #GOTM the tactical polo you need! See Post
July 23, 2017
11:09 pm
💜🖤 # Repost via IG @ See Tweet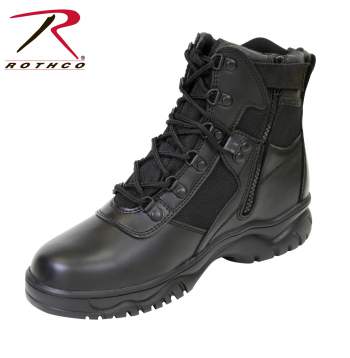 Want to become a Rothco Dealer?
Rothco 6 Inch Waterproof & Blood Pathogen Resistant Tactical Boot features Leather & Nylon upper with waterproof and blood born pathogen membrane which protects the wearer from bloodborne pathogens and moisture. The tactical boot also features a moisture wicking lining to ensure optimal comfort and dryness. The side zipper with hook & loop zipper keeper tab was strategically designed so that the boots can be put on and off quicker than the traditional lace-up military boots. Additional features of the boot include removable insoles, gusseted tongue, steel shank, D-ring eyelets and slip-resistant cup sole. Rothco carries a large selection of tactical boots designed to have you ready for duty. WARNING: This product contains a chemical known to the State of California to cause cancer, birth defects and other reproductive harm.
Leather / Nylon Upper, Steel Shank





Write a Review
Not a bad boot, and definitely lives up to being waterproof. The steel shank makes them a bit heavy, but you get used to that pretty quickly. I've been wearing them most days since I got them a couple of months ago, and the outside of the boot is still in top condition. The inside has started to show some wear and tear, but it seems like an easy enough fix so far. So far, I give it a basic rating in durability, and good rating for comfort.