June 24, 2017
7:06 pm
See On Instagram
June 24, 2017
11:05 am
There are so may different ways duct tape can come in handy; it may even save your life. #SurvivalSaturday See Post
June 24, 2017
11:05 pm
# # 💙 See Tweet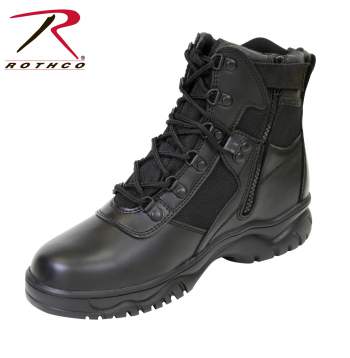 Want to become a Rothco Dealer?
Rothco 6 Inch Waterproof & Blood Pathogen Resistant Tactical Boot features Leather & Nylon upper with waterproof and blood born pathogen membrane which protects the wearer from bloodborne pathogens and moisture.
Leather / Nylon Upper, Steel Shank





Write a Review
Not a bad boot, and definitely lives up to being waterproof. The steel shank makes them a bit heavy, but you get used to that pretty quickly. I've been wearing them most days since I got them a couple of months ago, and the outside of the boot is still in top condition. The inside has started to show some wear and tear, but it seems like an easy enough fix so far. So far, I give it a basic rating in durability, and good rating for comfort.