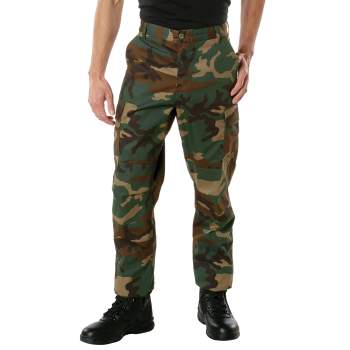 Want to become a Rothco Dealer?
Rothco's Camo Tactical BDU Pants are made for comfort and built for combat.
Camo BDU Pants Are Built to Withstand Wear and Tear with Long-Lasting 55% Cotton / 45% Polyester Material
Reinforced Seat and Knees Provide Unparalleled Resiliency While Shooting, Working or Performing Any Outdoor Task
Six Oversized Pockets Allow You to Store a Variety of Tactical Gear
Two Front Slash Pockets
Two Button Down Cargo Pockets
Two Button Down Back Pockets
Button Fly and Adjustable Waist Tabs for the Perfect Fit
Drawstring Ankle Ties to Cinch the Camo Pants Around Your Ankle or Blouse over Your Boot
Double Stitched Seam Construction
Modeled After the U.S. Military's Standard Issue Battle Dress Uniform (BDU)
Offering a Variety of Color Camouflage Patterns
Drawstring Bottoms, Adjustable Waist Tabs, Button Fly, Reinforced Seat and Knees
XSML- waist 27 inch, . SM waist 31 inches MED- waist 35 inches, LRG 39 incheswaist XLRG 44 incheswaist. 2XL 47 inches, 3LRG 51'' waist 4xl 55 inches waist 5xl 59 inches waist 6xl 63 incheswaist 7xl 67 inc
MultiCam Fabric: 65% Polyester/ 35% Cotton Rip Stop, 55% Cotton/ 45% Polyester, Smokey Branch 55% / 45% Polyester Twill





Write a Review
had a favorable time with this garment. i am a over the road flatbed truck driver, and prefer bdu's to jeans for their comfort and durability and longevity......which is hard to find in all three formats. i got a pair of the winter camo about five years ago and still have them and wear them, so i got other versions of this product and am over all happy.......... P.S. not screwdriver resistant.. sat on one on accident and found out the hard way.
Outdoor Retailer: These BDUs are F.A.N.T.A.S.T.I.C. sellers! They are comfortable and durable and the fit is true to Rothco's sizing chart. Excellent detailed construction. This product generates repeat customer purchases.
This item will be used on up coming episodes of CMT's "My Big Redneck Wedding".
Great camo pattern, well made very hard wearing in trying enviroments. One of the most pouluar camo patterns now in New Zealand.