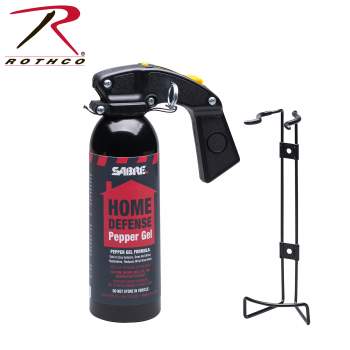 Want to become a Rothco Dealer?
Protect your home and your family from intruders with the SABRE Red Home Defense Pepper Gel with Wall Mount Clip. Pepper gel deploys in a powerful stream and has a long 25-foot (7.6 meter) range, putting more distance between you and an intruder. Remain confident against multiple threats with 32 maximum strength red pepper gel bursts (5X the competition).
SABRE is the #1 pepper spray brand trusted by police & consumers & a leader in the personal safety category. Pepper gel is made in the USA
SABRE's professional-grade OC Spray is backed by our in-house lab testing, guaranteeing maximum heat and stopping power in every burst and eliminating the 30% failure rate of other pepper spray brands (U of Utah study)
Pepper gel can be used indoors as it does not atomize like traditional pepper spray and deploys in a powerful stream with a 25-foot (7.6 meter) range; It only affects the target
Pepper gel has an impressive 32 bursts (5X the competition) deployed in a powerful stream of gel to decrease blowback
Feel secure with every SABRE product; Packaging includes links to free training videos so that, in the face of danger, you are better prepared to use your SABRE?Pepper Gel
Please note this item has a hazmat restriction and CANNOT be shipped via air freight. Other shipping restrictions may apply, please contact Rothco for details
This item is restricted for export and cannot be sold for use in some countries outside the U.S. Please contact Rothco for details.