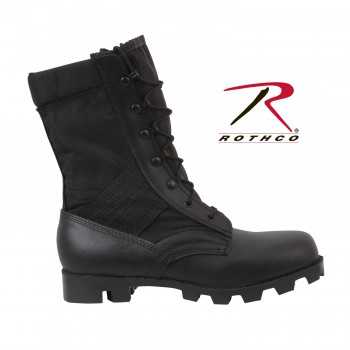 Want to become a Rothco Dealer?
Rothco's GI Style Speedlace Jungle Boots are designed for optimal support and comfort out in the field.
Classic Military boot with speedlace design
denier polyester and leather upper with leather midsole
removable cushion insole
non-slip Vulcanized panama sole for maximum grip
steel shank offers support
WARNING: This Product Contains A Chemical Known To The State Of California To Cause Cancer, Birth Defects And Other Reproductive Harm
WARNING: This product contains a chemical known to the State of California to cause cancer, birth defects and other reproductive harm.





Write a Review
Awesome boots. Use them everyday very comfortable, and they are built well. Rothco rocks.
These boots are great! Really good construction and durable. You barely even have to break them in. I would highly recommend them. They are very comfortable and fit great. However, the inside sole has barely any cusioning. It was easily fixed by getting some of those foam shoe inserts at Walgreens though. Other than that, they are VERY good.