July 25, 2017
9:08 pm
See On Instagram
July 25, 2017
8:42 pm
Rothco Plate Carrier Vests - Built and Designed for Duty. Check out more of our tactical and plate carrier vests here: https://www.rothco.com/category/rothco-military-tactical-vest See Post
July 25, 2017
10:25 pm
# # Repost via @ See Tweet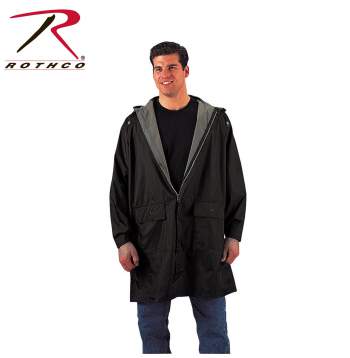 Want to become a Rothco Dealer?
Rubberized Nylon Outer, PVC Inner, Attached Hood, Under Arm Vents, 2 Flap Pockets. WARNING: This product contains a chemical known to the State of California to cause cancer, birth defects and other reproductive harm.
Inner: 30% Rubber / 70% PVC, Taffeta Outer (Polyester)





Write a Review
A lightweight but traditional reversible rubber raincoat. May leak a tiny bit around the shoulders and can trap perspiration but the rubber keeps it flexible and very resilient. The pockets go through which is a great feature and the hood is nice and large. I've had the zipper get stuck on the storm flap as I'm zipping up but no problem if you're careful. These are really good to have around and will not let you down like PVC raincoats can. It would also be nice if they were made of something a bit heaver like cotton.
UK International buyers love this product. Great for wet weather anywhere.