June 24, 2017
7:06 pm
See On Instagram
June 25, 2017
8:05 pm
Our Equipment Duffle Bag has been highlighted as one of Highsnobiety Top Ten Duffle Bags! You can view that bag right on our site, here: https://www.rothco.com/product/rothco-canvas-equipment-bag See Post
June 25, 2017
8:00 pm
Need some ideas on what to wear this summer? Check out our blog on the hottest summer items:… See Tweet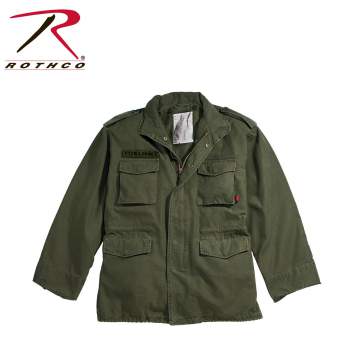 Want to become a Rothco Dealer?
Nothing says vintage military clothing like an M65 Jacket! Rothco's Vintage M65 Field Jacket features a super soft 100% washed cotton outer shell and lining. The M65 jacket also features a concealed hood, heavy brass zipper & snaps up storm flap, 2 hook & loop chest tabs lining and a removable Rothco Name Patch.





Write a Review
An alright coat, but it's incredibly cold even with a liner. Under -30 Celsius it's useless.
Got a pair of these jackets. Pros: - Cotton is both sturdy and does not irritate skin. Really feels good on touch (Yes, I'm very whiny on this stuff); - Great for three seasons of a year. My personal expirience is that I managed to wear it in temperature range from minus 15 C in Winter up to plus 18 in Spring. And I wore it without a liner (a tshirt, sweater and jacket - and you're good to go in Winter). -Aesthetics. I have no military background but I've got crush on military stuff as every guy does. Yes, guys never grow up. This jacket looks amazing and classic without extra details. Cons: - Difficult to get a proper size if you're tall and skinny (or skinny-fat like yours truly) with long arms. -The hood is too thick and bulky. I literally had to amputate it in order to get rid of strange sensation ofburden on my neck. - Upper pockets could be larger and wider. - Cotton. It is both gift and a curse. Don't bother using it under heavy rain. But overall in my opinion it is cool piece of clothing. Especially for Autumn and early winter.