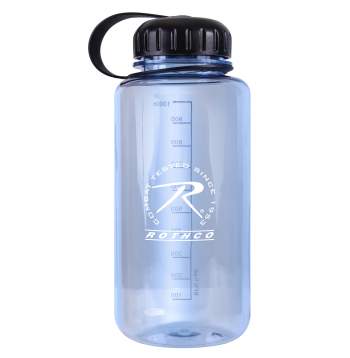 Want to become a Rothco Dealer?
Stay hydrated with the Rothco Water Bottle, made of shatterproof BPA-free plastic. It can hold up to 1 quart of liquid and is easy to carry on the go. It's the perfect pair with the MOLLE Water Bottle Holder.
BPA-Free Water Bottle (32oz /1 Quart) Is Made From Extremely Durable Shatterproof Material Making It The Go To Bottle For Any Activity
A Wide-Mouth Rim Makes Cleaning And Adding Ice Cubes Easy And Fits Most Water Filters
Screw On Cap Tightens To The Neck Of The Water Bottle To Prevent Leakage – Keeping Your Gear Dry
Loop Top Cap Attachment Not Only Keeps The Cap Securely In Place It Can Also Be Used To Attach To Your Gear
conveniently measure Your Liquids with Milliliter markings (up to 1000) on the side of bottle
Plastic Water Bottle Will Not Retain Taste or Odors
Fits in Rothco's MOLLE Water Bottle Holder





Write a Review
We love this bottle, but it has 1 flaw. If the lid gets screwed on too tight, the seam around the top of the lid will break open and pop up. This is a very popular item with our customers, but if the lid was redesigned, it would probably be a MEGA hit. Please fix the design, we would be very thankful.