January 19, 2019 1:45 pm See On Instagram
January 19, 2019 8:45 pm
Rothco's V-Max Lightweight Tactical Boot was designed to give you running shoe comfort in a military boot. 📷: via (IG) @7noak — Products shown: Rothco V-Max Lightweight Tactical Boot. See Post
January 20, 2019 10:25 pm
# 📷: via (IG) @ See Tweet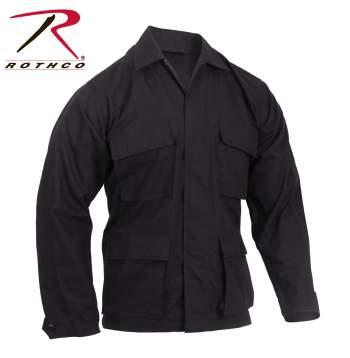 Want to become a Rothco Dealer?
Rothco's B.D.U. Shirts feature a Rip Stop material, four large button-down bellowed pockets, front button pocket with flap closure, reinforced elbows and adjustable button tab cuff at the end of the sleeve. Matching bdu pants and uniform accessories are also available. Rothco is your source for military and tactical uniforms; no one offers a wider selection of BDU Fatigue Shirts and BDU Pants than Rothco. Long and Short sizes are available for Rothco's Woodland Camo BDU - ONLY.
XSMl- 1/2 chest 21.5 inches Back length 29 inches SML 1/2 Chest 23 inches Back length 29.5 MED 1/2 Chest 24 inches back length 30 inches LRG 1./2 chest 26 inches back length 30 inches XLRG 1/2 chest 29 inches back length 30.5 inches 2 XL 1/1 chest 30 inches back legnth 31 inches 3Xl 1/2 chest 32.5 inches back length 31 inches 4xl 1/2 chest 35.5 inches back length 31.5 inches 5XL 1/2 chest 37 inches back length 32.
100% Cotton Rip-stop, Construction: 87x50/20x14