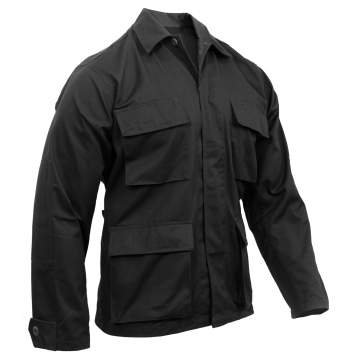 Want to become a Rothco Dealer?
Designed to provide resiliency and comfort for the wearer, Rothco's Solid Color BDU Shirts are the ultimate military shirt for active duty personnel and MilSim enthusiasts.
Combat-Tested Cotton / Polyester Design Prevents Wear and Tear
Reinforced Elbow Sections Protect Your Elbows and Prevent the Section from Wearing Out
Double Stitched Seam Construction
Modeled After the U.S. Military's Standard Issue Battle Dress Uniform (BDU)
Four Button Pleated Bellow Cargo Front Pockets
The Left Chest Pocket Contains an Open Top Pocket for Storing Pens or Small Tools
Button Front With Flap Cover Protects You From Outdoor Elements
Adjustable Button Tab Wrist Cuffs for the Perfect Fit
55% Cotton / 45% Polyester





Write a Review
They are obviously not as high in quality as genuine military-issued shirts, but they get the job done.