July 20, 2017
7:32 pm
See On Instagram
July 20, 2017
8:11 pm
Rothco has you covered with our new caps. Which one is your favorite? See Post
July 20, 2017
10:47 pm
Happy customers in # from @ 😎🔥🐝 See Tweet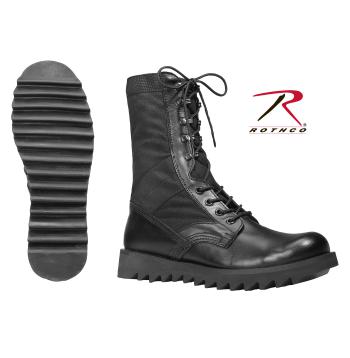 Want to become a Rothco Dealer?
Rothco's ripple sole jungle boots feature a super comfortable ripple sole with a canvas & leather upper. The ripple sole jungle boot also features a nylon web collar, speed-lace eyelets, rubber sole and side vents.

Available in full sizes 4 to 15 regular width and 3 to 13 wide widths.

WARNING: This product contains a chemical known to the State of California to cause cancer, birth defects and other reproductive harm.

Nylon, Leather, Rubber, Canvas
Canvas And Leather Upper, Ripple Sole





Write a Review
Excelent Boot for Paint Ball, Swat, SERT, Etc and Correction Facility use. Need water Proof, can purchase waterproof socks for use in this boot. Note: the tread does wear a bit faster if worn daily and a person walks on outside edge or shuffles. Does NOT have the sole spliting problem that the Panama Tread has experienced when there is repeated bending at the toe as in nealing down.
These boots are very well made and are excellent for the price. One thing though.....they run extremely big! I would have to say they run about 1-2 sizes larger than normal shoe size.